1937 – 2022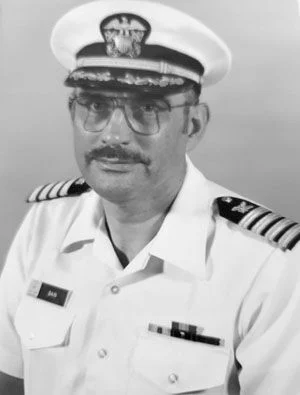 Bill Bain was born in Albany, Oregon in 1937. He was the only son of Lyle McKinley Bain, a physician and mayor of Albany, and Dorothy Robinson Bain, a classical violinist. He attended Albany High School and was active in clubs and band. He played clarinet and saxophone and had a lifelong love of music, especially Jazz. He graduated from Oregon State University and served in the U.S. Navy Supply Corps. He joined the Navy Reserve, went back into active duty for a year in 1976, and continued to serve in the Reserve until his retirement. He achieved the rank of Captain.
Bill was intelligent and had a deep curiosity and love of learning. He worked as a real estate appraiser, served as County Assessor for Lane County, was elected to Newport City Council, and served as Mayor of Newport from 1990-1995. He also had expertise in building, engineering, and trains. He was a member of the National Railway Historical Society, was active with the Yaquina Pacific Railroad Historical Society in Toledo Oregon, and worked as manager of passenger services for The Goose rail excursion in Cottage Grove in the 1970s. He loved The Freedom Train, steam locomotives, and model trains, and he owned his own rail speeder car to take on excursions with friends.
Bill's family had purchased a lot at Agate Beach in the 1930s. It had a small garage which was turned into a cottage. As a small child he spent much time at the cabin with his mother, while his father was serving as a physician for the Army in World War II. Bill lived in Albany until college at OSU, then moved to Lebanon after his active duty. In 1972 he moved to Eugene, and then in the 1980s he moved to Newport where he made his permanent home by adding on to the little beach cottage, doing much of the building himself with help from friends and family.
Bill and his wife Cathy were married in 1976. Together they enjoyed being with their dogs, going to Oregon Duck and Beaver games, starting their own travel agency, and supporting the Newport High School Boosters. They were active in Relay for Life and supported many community events in Newport. Over the years Bill belonged to Acacia Fraternity, Jaycees, Lions, Rotary, and Elks clubs. Bill was a very active member of every group he was in, a hard worker and a natural leader who really enjoyed people.
Bill is survived by his wife Cathy, and his three children from his first marriage to Karen Bain: Amy, (Keith) Amano, Will (Wendy Parciak) Bain, and Audrey (Scott) Sheldon; six grandchildren: Jesse (Kristin Bell) Amano, Sarah Amano, Julian Bain, Miriam Sheldon, Rudi Sheldon, and Callum Sheldon; and a great grandchild, Tove Amano-Bell.
A private graveside service will be held for family members. In lieu of flowers, Bill's family asks that donations be made to one of the charities Bill supported.